Steve Jobs – CEO of Apple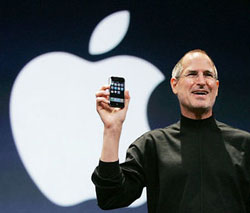 Steve Jobs was an American businessman. He was the co-founder, chairman and CEO of Apple Computers. He was widely recognized as a pioneer of the personal computer revolution. Jobs was the first person to discover the potential of Xerox PARC's mouse-driven GUI. It led to the creation of the Apple Lisa and the Macintosh. He introduced first widely available laser printers named LaserWriter to the market. Jobs founded NeXT which a computer platform development company specializing in the higher-education and business markets.
Jobs received various honors and public recognition for his influence in the technology and music industries. He has been widely referred as "Father of the digital revolution" and "a master of innovation". Steve graduated at Reed College in Portland which was an expensive college. Steve Jobs was a persuasive and charismatic director for Apple. He introduced NeXT workstations in the early 90s. It was technologically advanced but was largely dismissed as cost-prohibitive. The NeXT workstation was known for its technical strength important among them is its object oriented software development system. Jobs marketed NeXT products to the financial, scientific and academic community by highlighting its innovative and experimental new technologies.
His innovative product is NeXTMail multimedia email system so that NeXTcube could share voice, image, graphics and video in email for the first time. Jobs combined with Pixar graphics group and produced his first film named Toy Story. Jobs changed the licensing program for Macintosh clones making it too costly for the manufacturers in making machines. Under Jobs's assistance, the Apple Company increase sales significantly with the introduction of the iMac. With the release of the iPod portable music player, iTunes digital music software, and the iTunes store, the company made expeditions into consumer electronics and music distribution.
Steve Jobs died on October 5, 2011 due to pancreatic cancer. Steve's brilliance and passion were the source of countless innovations. Apple has lost a creative genius. There are a lot of additional information and documentaries depicting the life and success of Steve Jobs. He was awarded the greatest entrepreneur of the time by Fortune magazine in March, 2012. He was also posthumously awarded Grammy Trustees Award, which is given to people for their influence in the musical industry regardless of their performances. He will always be remembered for his hard work and vision that has brought Apple to top of the world.